Class 3 Challenges Week 13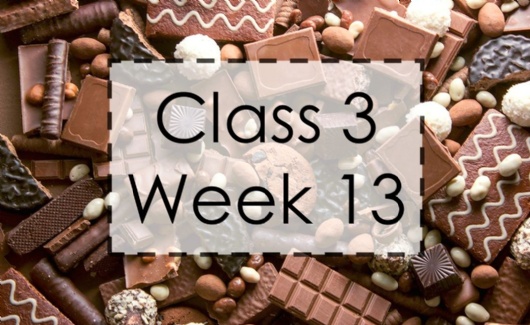 Hello Class 3!
I want to start by saying how fabulous I think you all are. Although I have only been able to meet a few of you, the work I have seen, the emails I have received and the stories all the teachers at Ab Kettleby have told me about you all have been nothing but wonderful. I am gutted we didn't get to know each other like I would have liked but I know you are all going into Year 5, Year 6 and Year 7 as brilliant people. Having spoken to most of you (and hopefully the rest of you before the end of term!), I wish you all a very happy summer!
As this is your last week, I wanted you to have as much fun as possible, and what is more fun than chocolate!? This week's theme is all about the wonderful sweet stuff and allows you to be as creative as you like! Below is an overview of the activities you have.
From me to you, I have really enjoyed this strange time with you all - keep being brilliant!
Miss O'NeilL
English: This week you will be carrying on with your Talk For Writing work booklets from last week. How are you finding it? I hope you are all getting on alright! You also have your daily grammar and punctuation questions to work through.
Maths: For this weeks Maths, I thought we could have some fun. This week you have a Maths Mystery to solve! Each day you have a clue to work through to figure out the answers you need. If you complete this there is also an emoji code breaking activity for you to have a go at!
TT Rockstars: This is your final chance to show us what you've got!! Year 6 are challenging BOTH Year 4 and Year 5 to see who can end the week with the most points! All you need to do is keep playing - the more you play, the more points you will get as a team. You have until Friday so get cracking!!
Science: You have a number of activities on Education City all about the States of Matter. As we are looking at chocolate this week, we need to think about the changes it goes through from bean to bar!
Topic: As we are looking at chocolate this week, your topic work is all about understanding how imaginative chocolate can be, where it comes from and even making your own chocolate bar (sorry parents but I'm sure they'll let you have some!).
As usual you can continue with Code.org and your Spanish on Oak National Academy - find what you enjoy and do it! It is your last week of this school year so have some fun!!