Year 1, Week 10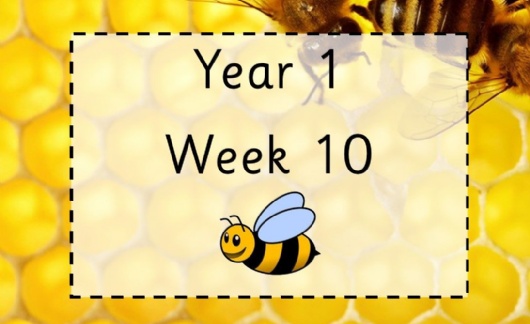 Welcome to Week 8 of the Summer Term, and the third week of the half term! Welcome back to those of you who have joined us back in school this week, we hope you've enjoyed it as much as we have enjoyed being able to see you again. As we said before, should you not currently be coming into school, we completely understand and will continue to provide as much support to you as we can. If you would like any additional support from us, please get in contact. Should you wish to give school 'a go' for a day or two, that is also completely fine, and we would welcome you back and respect your decision.
When in school we will be learning the same things that are set for home learning. We may go about them in a slightly different way, but no one will be missing out by not being in school.
Please see below the learning for this 'Week 10'. There is Maths, English, Phonics & Topic. As always, this is to be taken and used only if you want to, we would still love to see anything else that you've been up to during this time! Also, remember we will be posting other challenges and ideas on our Facebook page.
If you would like your learning to appear on our home learning blog, either post it to our Facebook page, or email to [email protected]
Any questions, please direct them to [email protected] and they will be passed on to the relevant person. Please do not hesitate to ask about anything.
We're so proud of you all!
Please read on for further information about the learning this week.
Miss Bray and Mrs Hadingham
English -
An overview of this week's English learning
Postcard Lines
Postcard Pictures
Phonics -
The Minibeast Mystery (activity book & answers)
Spellings
Reading -
Knights & Castles Text (read this on Monday)
Knights & Castles Questions (a page a day from Tuesday)
Maths -
Maths Overview
Day 1 - Count in 2s
Day 2 - Count in 5s
Day 3 - Count in 10s
Day 4 - Add equal groups
Topic -
An overview of this week's Topic ideas
Recycling sorting
Rainbow page
Father's Day Card Ideas - Dads, no peeking!
Wellbeing - Be Proud of Yourself
PE - There is a virtual sports day going on, hosted my Melton & Belvoir Sport. This was sent to you via Gateway last week, but is also being posted on Facebook weekly. The children in school are taking part with Mrs Brown, but you can take part at home! This week's challenge is an obstacle course, for more details visit our Facebook page, and email all attempts to [email protected]