Year 1, Week 6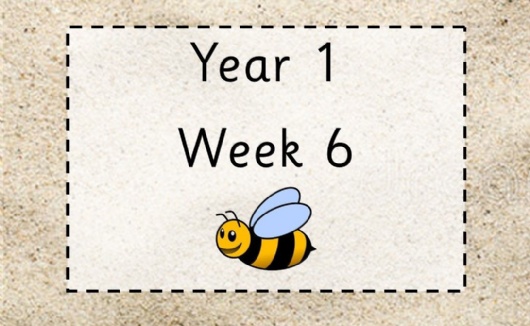 Welcome to Week 4 of the Summer Term! Please see below the learning for this 'Week 6'. There is Maths, English, Phonics, & Topic. As always, this is to be taken and used only if you want to, we would still love to see anything else that you've been up to during this time! Also, remember we will be posting other challenges and ideas on our Facebook page.
If you would like your learning to appear on our home learning blog, either post it to our Facebook page, or email to [email protected]
Any questions, please direct them to [email protected] and they will be passed on to the relevant person. Please do not hesitate to ask about anything.
We are so proud of all of you; the work you have been doing, and your positive approach to our situation. You all absolutely deserved those medals and certificates, so enjoy them! We miss you so much and can't wait to see you again once it's safe.
Please read on for further information about the learning this week.
Miss Bray and Mrs Hadingham
English -
An overview of this weeks learning
A template for drawing some pictures
Phonics -
Something a little different this week; there is a reading challenge, and then a book review sheet to fill in - or you could do it in your book!
There is also another reading challenge to think about when reading this week.
It's a week of challenged! There is also a phonics challenge and recording sheet - can you fill the sheet with words including that phoneme?
Spellings
Maths -
An overview of this week's learning
Day 1 - find an make number bonds
Day 2 - Related Facts
Day 3 - Find a part
Day 4 - Add by Counting on
Day 5 - Friday Maths Challenge (with Classroom Kitchen)
Number line to 20
Number bonds to 20 challenge cards (extra)
Topic -
An overview of this week's topic suggestions
Sun Awareness Powerpoint
Material Word mats
Wellbeing - enjoy the little things, activity & colouring.