Year 1, Week 3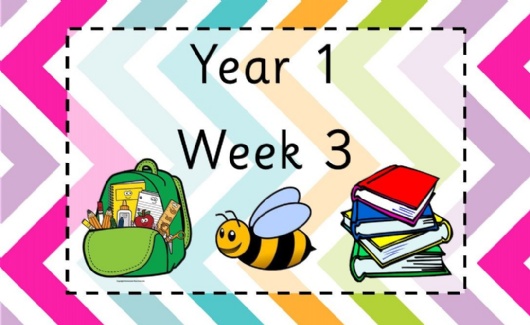 We hope you had a lovely Easter break, and enjoyed some of the activities we suggested!
We are now in the Summer term! Please see below the learning for this 'Week 3'. There is Maths, English, Phonics, Reading & Topic. As always, this is to be taken and used only if you want to, we would still love to see anything else that you've been up to during this time! Also, remember we will be posting other challenges and ideas on our Facebook page.
If you would like your learning to appear on our home learning blog, either post it to our Facebook page, or email to [email protected]
Any questions, please direct them to [email protected] and they will be passed on to the relevant person.
Please read on for further information about the learning this week.
English -
This week is all about poems! Read the 'English Ideas' document to find out about your tasks for this week.
Spring Poems
Phonics & Reading -
Phonics Activity Mats (3 of them, do them as you please)
Comprehension text - Good Friends. Read this on Monday
Questions about 'Good Friends'. Complete 1 sheet each day from Tuesday onwards.
Maths -
Maths Overview & instructions for White Rose Maths
Day 1 - Compare Capacity
Day 2 - Count in 10s
Day 3 - Compare Equal Groups
Day 4 - Add Equal Groups
Day 5 - Make Arrays
Make your own Blockzilla
Counting in 2s, 5s, and 10s activities (extra)
100 square
Maths Flashback (start with one of these sets of questions)
Times Table Rockstars Instructions. This is just to familiarise yourselves and your children with, and logon and have a go. The Instructions tell you how to logon, and what to go on to get the personalised times tables for your child. Your children have not done this before, but will be doing it a lot in year 2. They are set on just 2 times tables for now. If you would like 5s and 10s adding, please send an email to [email protected]
Topic -
Topic ideas - a document full of ideas for this week.
The Queen's birthday powerpoint
A birthday card for the queen template